Restoration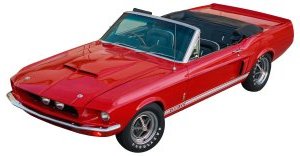 Before removing the first bolt, we began the extensive research phase of this project. A "dream team" of experts and enthusiasts were assembled and the physical restoration commenced in 2010.

With even more information discovered over the next three years, Jason Billups was to commissioned to re-restore 0139 to Concours standards. In the spirit of the never-ending pursuit of perfection, 0139 was completed by Billups Classic Cars in October 2014.

Researching this very special car's history will likely never end -- In fact, newly discovered vintage photos were added to the gallery as recently as October 2014, and related paperwork as recently as March 2015. Our research effort today extends well beyond this one car and now focuses on the companies that built it -- Shelby American, Ford and even A.O. Smith Plastics.

If you have knowledge, paperwork and/or photographs of this convertible or other Shelby American company cars, engineering vehicles and/or prototypes, we'd love to hear from you.

Technical Contributors
Bob Gaines, Pete Disher, Ed Meyer, Jeff Speegle, Lowell Otter,
Dave Mathews, Chris Simon, Phil Murphy and Jason Billups.

Literature, Photos & Reference Materials
Vince Liska, Lowell Otter, Dave Mathews, Howard Pardee, Pete Disher, Vernon Estes, Donald Farr, Martyn Schorr, Rich Plescia, John Chun, Keith Schadoff, Jamie Ventrella, Richard Kot, Billy Dunbar and the Ford Archives.

Interviews
Bob Carlson, Paul Kunysz, Lonnie Brannon, Bill McLean, Don Pike, Jack Khoury,
Peter Brock, 'Scooter' Patrick, Chuck McHose, Chuck Cantwell, Phil Remington,
Dennis Walsh, Bernie Kretzschmar, Bob Shaw, Susan Warne, Pam Rodgers and Austin Craig.

References
The Shelby World Registry, by the Shelby American Automobile Club
Kevin Marti and the Marti Auto Works
Pete Disher and his Coral Snake website
Carroll Shelby and the Carroll Shelby Foundation
Shelby Mustang 1965-1970: Ultimate Portfolio, by R.M. Clarke
Mustang Recognition Guide 1965-1973, by Larry Dobbs
Shelby - A Source Book, by Robert C. Ackerson
Shelby - A Source Book, Volume II, by Paul North

Restoration
Jason & Scott Billups - Billups Classic Cars

Historian & Project Manager
Brian Styles

Caretakers
Samantha & Brian Styles