It was Shelby American's plan to introduce a convertible-bodied G.T. as a 1967-˝ model.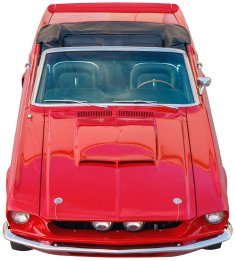 Unfortunately, production bottlenecks and financial problems overwhelmed the small California company right from the start. Ford Motor Company intervened immediately and then later made the difficult decision to terminate the Shelby program before reaching the mid-year point. This twist of fate resulted in the 'first' 1967 G.T. Convertible built (67413C9A00139) becoming the 'only' G.T. 500 Convertible ever built by Shelby American.
Once plans for the mid-year convertible were shelved, 0139 was then updated (disguised) with '68-styled fiberglass and became one of two photographic cars that would ultimately appear on every single piece of advertising material used to promote the upcoming '68 models.
The significance of #0139 extends well-beyond the Shelby marque; prior to wearing a Shelby American VIN, this convertible was first born on Ford's San Jose Mustang assembly line. All 1967 Mustangs special-ordered by Shelby American as G.T. 500s were equipped with the potent 8-cylinder "Ford Cobra" 428 cu.in. (7.0L) engine topped with dual 4BBL carburetors.
This G.T. 500 convertible was no different -- and that means #0139 is the only multi-carbureted Mustang convertible ever built throughout the entire history of Ford's legendary pony car.