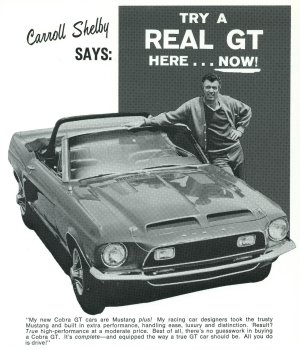 Lyndon B. Johnson was president, the "space race" was on, the Beach Boys released their best-selling album and a gallon of gasoline would set you back $0.32 cents. It was the summer of 1966...
On August 9th, a week before production was about to begin on the newly redesigned '67 Mustang, Shelby American placed an order with Ford for three specially-equipped cars; a coupe, a fastback, and a convertible. Other than the body style, all three were to be identically equipped with the 428cu.in. engine, C-6 automatic, A/C, P/S, P/B, Thermactor, AM radio, tinted glass and a black décor interior under a Candyapple Red exterior.
These automobiles would be the first production-line Ford Mustangs outfitted with the massive Q-code 428 cu.in. "Interceptor" engine. The convertible was serialized on November 1, 1966 and completed twenty days later at Ford's San Jose plant, approximately two weeks after the fastback and coupe. This trio would also become the first big block GT 500 cars delivered to, upgraded by and serialized by Shelby American.
The convertible received sequence number 0139, was designated a "company car," received '67 Shelby upgrades and was initially assigned to Carroll Shelby as his "personal driver."
After being thoroughly enjoyed by Carroll and his friends, the convertible was re-purposed as a '68 styling prototype. Dearborn Steel Tubing (DST) shipped a newly designed hood, front-end and tail light panel to California. In April 1967, Shelby American installed the fiberglass components and began extensively photographing the convertible for brochures, print ads and dealer literature to promote the upcoming 1968 model year GT cars.
Nearly half a century has passed since this extra special GT 500 convertible rolled off Ford's assembly line. Several years were spent researching the history and then restoring this special car under the supervision of SAAC head judge Bob Gaines and with the priceless technical contributions from many experts, enthusiasts and past employees in the Shelby community.