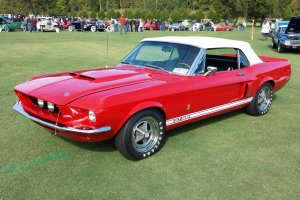 Lyndon B. Johnson was president, the "space race" was on and the Beach Boys released their best-selling album. It was the summer of 1966...

After two successful years of selling his Mustang-based G.T. 350 Fastback, Carroll Shelby, with his 'go big or go home' mantra, decided that 1967 would be the year to take his automobile company to a new level of greatness.

There were three primary objectives to Shelby's plan for 1967: (1) augment the Mustang's design with fiberglass components to give it its own distinct look; (2) include a new FE-series 428 cu.in. big block engine option and finally (3) add coupe and convertible body styles. This plan would result in consumers being able to choose from six different Shelby G.T. models.

Carroll's plan was put into motion on August 9th, a week before production began on the redesigned '67 Mustang. Shelby American placed an order with Ford for three specially-equipped cars; a coupe, a fastback, and a convertible. Other than the body style, all three were to be identically equipped with the 428 cu.in. engine, C-6 automatic gearbox, A/C, P/S, P/B, Thermactor, AM radio, tinted glass and a black décor interior under a Candyapple Red exterior.

As history would inevitably reveal, these automobiles would be the first production-line Ford Mustangs outfitted with the massive Q-code 428 cu.in. "Interceptor" engine, and because they were ordered by Shelby, they also received dual Holly 4bbl 600 cfm carburetors.

For Shelby, two out of three goals were achieved: Carroll did get the styling design approved, and the 428-equipped G.T. 500 model would be offered, however, it appears that after inspecting the two hand-built '67 Fastback prototype cars in September 1966, Ford management quashed part three of the plan that would have expanded the model line-up to include a coupe and convertible.

Despite Ford's decision to restrict Shelby's offering to the two fastback models, the coupe and convertible (ordered back in August) were still completed. The convertible was serialized on November 1, 1966 and completed twenty days later at Ford's San Jose plant, approximately two weeks after the fastback (0100) and coupe (0131). This trio would also become the first big block G.T. 500 cars delivered to, upgraded by and serialized by Shelby.

Upon arrival at Shelby American, the convertible received sequence number 0139, was designated a "company car," and like all early-built '67 Shelby vehicles, was upgraded with the same off-the-shelf parts, including fiberglass, inboard headlights, emblems & stripes.

Initially assigned to Carroll Shelby as his own "personal driver," interviews with his former employees indicate the convertible was often being driven by a "Patricia" who worked for Shelby in the upstairs executive offices at the L.A. Facility (she was the originally the receptionist at the Venice shop).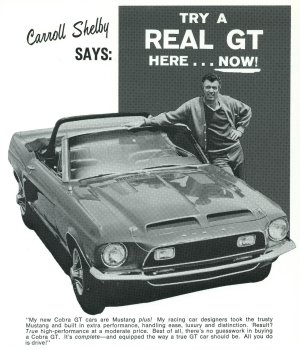 About four months later, the convertible was was re-purposed for use as a '68 styling and photographic car. With Ford's design assistance, Dearborn Steel Tubing fabricated and shipped two sets of redesigned hoods, front-ends and tail light panels to California. In April 1967, Shelby American installed the fiberglass components and began extensively photographing the convertible at numerous California locations for brochures, print ads and dealer literature needed to promote the upcoming 1968 model year Shelby G.T. cars.
Nearly half a century has passed since this extra special GT 500 convertible rolled off Ford's assembly line. Several years were spent researching the car's history prior to entrusting Jason Billups to perform the Concours-correct restoration with the priceless technical contributions from many experts, enthusiasts and past employees in the Shelby community.