| | |
| --- | --- |
| Document: | Vehicle Fixed Assets |
| Source: | Shelby American, Inc. |
| Date: | July 31, 1967 |
This five-page document would have been part of the last accounting records of Shelby American, Inc. The document included 3 pages from the Automotive division, one page from the parts division and one page from the Racing division.
It appears that Ford made that decision to terminate the Shelby Program half way through and by end of April 1967, Ford took over SAI completely. A mere three weeks after the this document was created, all assets of the company and a small staff were sent to Ionia to form the Shelby Automotive Company (SAC) and help to transition the '68 program to A.O. Smith Plastics. company.
1967 Company Cars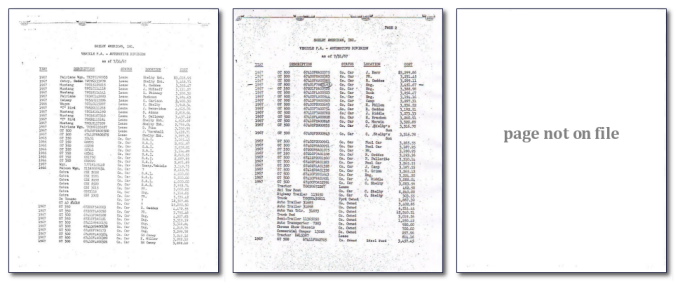 The latest updates to this research can be found here: 1967 Company Cars Table.
Note: Based on value, the only convertible would be the most expensive 1967 G.T. 500 company car. Car 0003, a G.T. 350, is the most expensive G.T. company car overall.